Immune monitoring in the context of hematopoietic cell transplantation in children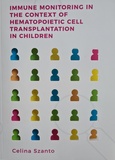 Promoter:

Prof.dr. A.D.R. (Alwin) Huitema & prof.dr J.J. (Jaap Jan) Boelens

Co-promoter:

Dr. S. (Stefan) Nierkens

Research group:

Date:

December 15, 2020

Time:

14:30 h
Summary
In this thesis the potential of immune monitoring before and after hematopoietic cell transplantation (HCT) in pediatric patients is described. As each patient is unique, it is often unknown how the immune system will respond to (immune)therapy after HCT. In addition, risk factors and markers correlating to disease status and outcome are lacking. Immune monitoring can provide insights into immune cell behavior at different stages during therapy.
Part 1 of this thesis focusses on immune monitoring in children with high-risk neuroblastoma. T-cells showed impaired function after stem cell transplantation. While Tregs, function normally and increase in blood after IL-2 and GM-CSF treatment. These new findings justify standardized immune monitoring in NBL patients before and during therapy to gather data on the association of the immune status of a patient and clinical outcome.
Part 2 describes effects of immune modulation of malignant and non-malignant pediatric patients receiving an allogeneic stem cell transplantation. Immune monitoring after HCT shows that patients with CD4+ T cell reconstitution have lower risk of GvHD-associated death. Chemo-naivety is a risk factor for the development of autoimmune cytopenia and lung complications. In addition, acute GvHD and/or serotherapy are risk factors for autoimmune cytopenia, while adenovirus reactivation is a risk factor for lung complications. An increase in immunoglobulins in blood preceded autoimmune cytopenia.
The results in this thesis identified several factors that might be important for the succes and outcome of HCT.