Clinical characteristics and treatment of chronic urticaria and angioedema
Dwelling on swelling, dealing with whealing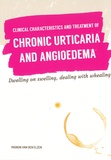 Promoter:

Prof.dr. A.C. (André) Knulst & prof.dr. C.A.F (Carla) Bruijnzeel - Koomen

Co-promoter:

Dr. H.G. (Henny) Otten & dr. H.(Harmieke) van Os - Medendorp

Research group:

Date:

July 4, 2017

Time:

10:30 h
Summary
The occurrence of wheals, angioedema or both for at least 6 weeks is diagnosed as chronic spontaneous urticaria in (inter) national guidelines - after excluding other illnesses. The underlying mechanism of angioedema without wheals is not entirely known. The objective of this thesis is to increase insight in the treatment of adult patients with angioedema with or without urticaria, and with urticaria with or without angioedema.

We first studied patients with angioedema: we show that bradykinin-mediated and mast cell mediated angioedema share clinical similarities, and both licensed drugs for treatment of hereditary angioedema (HAE) and chronic spontaneous urticaria (CSU) treatments showed a beneficial effect in a substantial amount of patients. Furthermore, we focus on the drug "Ruconest" (recombinant C1INH; rhC1INH), which is purified from rabbit milk from genetically modified rabbits. The medicine is used to treat acute attacks of hereditary angioedema. Potentially, patients with an allergy to rabbit or cow's milk may also have an allergy to rhC1INH. We showed that in patients with an allergy to rabbit and/or cow's milk, no allergic symptoms occurred during a subcutaneous challenge with rhC1INH.

Next, we studied patients with CSU. In a retrospective study of efficacy and safety of antihistamines in CSU patients, we showed that increasing antihistamines higher than four times the standard dose - fourfold is the maximum dose according to guidelines - was effective in 49% of patients, and it was associated with few and mild side effects. As a result, additional therapy in these patients had been avoided. However, some patients remain in need of further treatment with omalizumab. A meta-analysis confirmed efficacy and safety of omalizumab 300 mg per month. We examined whether the complement system plays a role in the fast clinical response after treatment with omalizumab. In patients with CSU, prior to treatment with omalizumab both C4d was found in the skin as well as increased C5a levels in the blood, both indicative of complement activation. After omalizumab administration, apart from a very short-lived complement activation, no effect on the contact system was seen. Therefore, the rapid clinical improvement after omalizumab administration cannot be explained by complement. The exact mechanism of action needs to be studied further.

Finally, we showed that omalizumab was effective in daily practice even in refractory CSU patients: almost all patients (94%) experienced effectiveness, a favorable response was seen after the first administration in 57% of patients, and in the long term the proportion of administrations with effectiveness remained high.